Une promenade dans les jardins de Versailles en décembre 83 filmé en super 8.
printemps 2010 une réappropriation et un détournement du film d'origine. L'espace du jardin s'est transformé, le document d'origine se déploie autrement, faisant surgir d'autres plans, d'autres horizons et des modalités de pouvoirs laissés de côté au profit d'une contemplation esthétique.
A trip to the Versailles garden in the winter of 83.
In 2010 I rework that super 8 original footage in order to bring other meaning to this landscape. The alteration of this footage through color mixing and speed,
 as much as the adding of a short text convey other meanings such as power codification that are not yet visible when one takes for granted a magnify shaped landscape.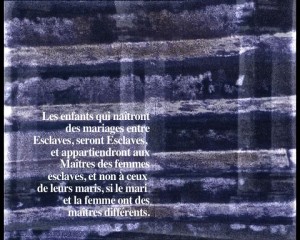 Uma viagem para o Jardim de Versalhes, no inverno de 83. Em 2010 eu re-trabalho as imagens originais em super-8 a fim de trazer outro significado a esta paisagem. A alteração deste material através da mistura de cores e velocidades, tanto como a adição de um pequeno texto, transmite outros significados, tais como a codificação de poder, que ainda não são visíveis quando um toma como dado a paisagem magnificamente formada.