Fr, En, Pt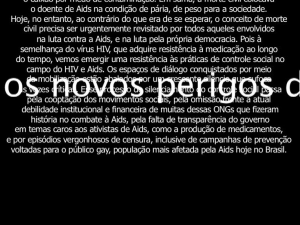 Reprenant et poursuivant le versions antérieures de Tu, sempre cette nouvelle version en portugais interroge plus particulièrement les questions du VIH et du Sida au Brésil.
La bande sonore est un collage de deux morceaux d'Ultra-Red.
A new version of Tu, sempre a work in continuous progress. This short film is in Portuguese and deals mostly about HIV and Aids in Brasil.
The soundtrack is a collage of two pieces by Ultra-Red
Uma nova versão do filme Tu, sempre, um trabalho em progresso. Este curta é em português, e concentra-se sobre AIDS e HIV no Brasil. O som é um colagem a partir de doas peças de Ultra-Red.